Hi everyone! So make up has always been a part of my life, ever since I was able to reach my mom's purse and steal her lipsticks. In middle school I started wearing eyeliner for the first time. I just want to thank god I have moved on from the raccoon eyes phase. In high school, there was not a day I did not put make up on. I started really experimenting with filling in my eyebrows and contouring my face. When Kylie Jenner came out with her make up line, I started getting into wearing fake lashes and lip liners. Now, almost 21, I hardly have weeks where I wear make up. I started to enjoy how I looked naturally around 18-years-old, something that was a lot harder for me years back. Since then, when I do put on makeup, I like to go for the more dewy natural look. But, on the weekends I still try to find a night to dress up and put on some makeup, because what girl doesn't like to do that?!
That being said, here is a list of some of my favorite products I like to use.
I don't really like to use foundation but when I do use it I tend to buy more light coverage foundations. I also have dry skin so I found that these work good for me when my skin is prepped (this means washed and moisturized).
Fenty Beauty matte foundation - I LOVE this foundation so much. It gives such an airbrushed look when I apply it with a beauty blender. This is a lighter coverage foundation but can be built onto your skin for more of a heavy coverage look. The shade I wear when I have a tan is '350'. Be aware that this product oxidizes so it appears darker after applying. ($34)
Laura Mercier Candleglow foundation - I always use this foundation in the summer time. It is so light on my skin and keeps it looking really dewy and natural. You can hardly tell that I have this foundation on when I use it. I also will mix this foundation with my fenty foundation for the perfect tan. I use the color 'Ivory', good for fair with neutral warm undertones. ($48)
Illusion Hourglass skin tint - This is also another great foundation if you are looking for a light coverage on your face. It is a tint, so it moisturizes and products your skin. Hourglass contains SPF 15. The product blends super well with a foundation brush or something with synthetic hair. You could also just use your fingers. The color I have is 'Beige'! ($56)
I am thankful to have clear skin but, when a breakout comes I like to make sure I can hide it properly. Even though I do not wear concealer religiously, I have still tested a few from time to time and found some that are worth writing about.
NARS creamy concealer - I really enjoy this concealer because it does not crease and I also like using it as a primer for eyeshadow. Sephora says you can use it to build up coverage but I think it's the perfect concealer with just a few tiny dots wherever it is needed. I also use this to highlight under my eyes because my dark circles start looking bad after a couple sleepless nights. I wear the shade 'Custard' but could also wear 'Macadamia' if I wanted less of a brightened under-eye. ($30)

Age Rewind stick - The age rewind stick was the first concealer I ever bought and I can not find anything bad about it. It is also really cheap alternative if you are not trying to spend a lot on make up. I wear the 'Medium' or 'Light' shades. ($9)
I have only used two powders and since buying them I haven't changed. I will list those two first and then add another one which has been highly raved about & is something on my wishlist.
Laura Mercier loose setting powder - I first tried this my freshmen year of college and I never realized how important powder was until I tried this product. This powder is great because its translucent so it has no color and it will not alter anything already on your face. It stays on majority of the day but I bought the mini size so it is easy to carry around if needed. ($38)

Fit me loose finish powder - Fit me powder is another one of my favorites. It keeps my face matte where I want it to be and stays on majority of the day. Great alternative if you are on a budget. ($8)

Always perfect by bareMinerals - This is the powder that I have yet to try but I have heard really great things about. I heard this powder works well in hot weather because it absorbs excess oils. ($15)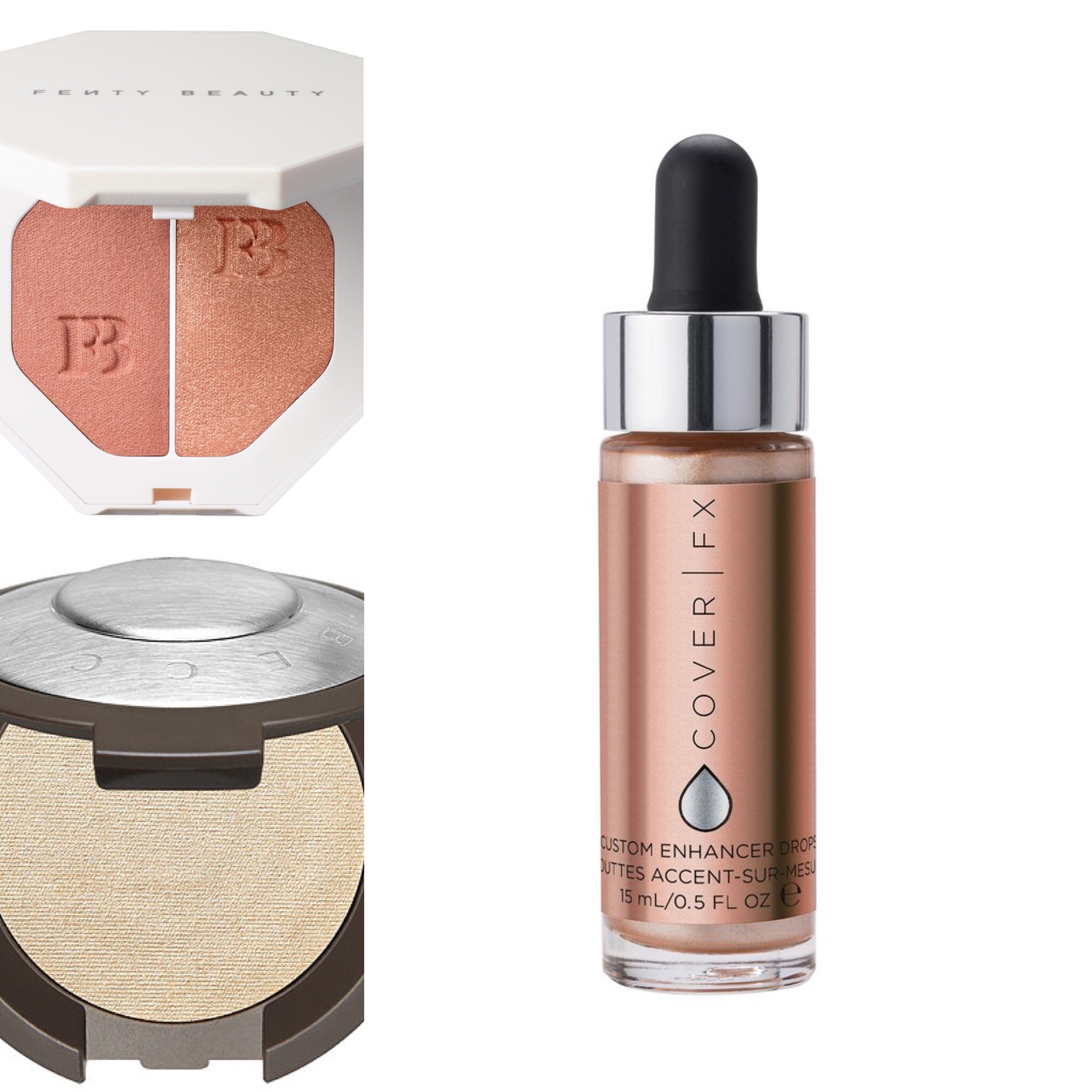 The one product that I feel makes a whole makeup look, pop, is really the highlighter. I think highlighter is my favorite type of makeup. What makes highlighter so great is that it's versatile and it's a product you can build for higher intensity.
Fenty Beauty Killawat highlighter - Fenty highlighters are truly a great investment. Depending on how you apply the product, you can get a more natural glow or a look with crazy luminizing color. It looks amazing in natural light as well as nightlife. Overall 10/10. I wear the colors 'Ginger Binge/ Moscow Mule'. ($34)
Becca Gel highlighter - Gel highlighters are perfect fit for a natural makeup look. The texture of the Becca's highlighter makes it easier to build on your skin. I like this highlighter in the fall and winter when I am not as tan. The color I wear is 'Opal'. ($19)
Cover FX enhancer drops - THIS IS A MUST HAVE! These enhancer drops have to be my favorite type of highlighter, hands down. I put these drops on my cheekbones, shoulders or sometimes collar bones if i'm going somewhere at night. I use the color 'Sunlight' because it really gives my skin a beautiful golden glow. ($42)
Picking bronzers can be hard and challenging. I believe this is because lots of people want to appear tanner, but buy products that are too dark for their complexion. The other reason is you buy a shade too close to your foundation color, not creating a contoured/contrasted look.
Bareskin liquid bronzer - I have been into wearing liquid bronzers for the past few months because it looks super natural and dewy on my face. This bronzer is super silky and lightweight. It is good for all types of skin tones and gives the perfect amount of color to your look. This is what I have been using for the past few months. I like applying it with a synthetic brush so the brush or sponge does not soak up all the liquid and keeps an airbrushed finish. I use the shade 'Bare Sand 12'. ($30)
Benefit Hoola bronzer - Benefit's bronzer is good if you're wanting a matte finish, perfect for more oily skin types. I picked this bronzer up on my sixteenth birthday at the Benefit store in NYC. I quickly became obsessed with the beachy, sun-kissed look it gave me. This bronzer gives such a natural tan. It comes in two shades, I wear the original 'Hoola' color. ($29)
Too Faced chocolate matte bronzer - This bronzer smells freakin' amazing! Just one of the many reasons why I continue to buy it. It looks good on its own or over a liquid bronzer. Also, this product is good for oily skin types. I wear the color 'Chocolate Soleil' which is a medium to dark color. ($30)
I have used a number of different mascaras and eyeliners since middle school. My favorites switch as time passes. Right now these are some of my favorites that I am using. I only use black mascara but switch between brown and black eyeliner.
Eyes to Kill mascara - Giorgio Armani has an awesome makeup collection. The Eyes to Kill mascara is a higher quality mascara that I just started using. I like how this mascara kinda dries quickly when applying so you don't get it all over your lids. The application is smooth and the brush makes my lashes super fluffy. If you're wanting a higher end mascara I would recommend this one. ($32)

Tattoo Liner - Kat Von D's eyeliner is great for bold wing looks. I do not wear eyeliner too often but if you are going to a special event or a night out with friends, this is a long lasting liner that is made to be super easy to put on. It is also not messy which is a plus. I am currently using the brown tattoo liner. ($20)

The colossal volum' express mascara - Maybelline's mascara will go down as one of my favorite mascaras I have used. I will continue to buy this mascara for the fact that it is just that great. This is a cheaper mascara but works amazing and stays on all night (even through sleep if it is one of those nights). It keeps my lashes looking full while giving me amazing volume. You can get this mascara really anywhere. I usually wear the waterproof addition. I use this until there is no product left, literally. ($6)
I LOVE eyeshadow when I am going out at night. I usually go for darker colors but, recently I have been getting into experimenting with hot-pinks and yellows with a touch of Face Gloss .
Semi-sweet chocolate bar - This was the second eyeshadow palette I have bought. This palette is part of the same collection as the bronzer I use by Too Faced. It smells amazing, just like chocolate. The colors are a gorgeous mix of deep and warm shades of 'chocolate'. Some of my favorites to wear are 'Truffled', 'Hot Fudge', 'Bon Bon', and 'Sweet Chili'. ($49)
Milk holographic highlighter - This highlighter is so intense that it looks amazing on the eyes. I like to use it in the corners of my eye to brighten them and make them look a tiny bit bigger. The best part about this product is how hydrating it is for your skin. It has avocado and coconut oil, it even has mango butter in it. What isn't there to love?! I wear this in the color 'Supernova'. ($24)
Kylie Cosmetics bronze palette - I have had this palette for around two years and I am truly in love with the colors. The formula of the shades are smooth and blendable. I also love how there is a crisp orange color which just brings such a fall mood to this whole palette. ($42)
I have noticed with blushes that I tend to stick with coral pink colors. Blush just brings the right amount of life into your cheeks and I think it is a staple in my looks.
Milk makeup lip&cheek - The perfect, quick and easy make up stick. I love that you can also use it for your lips. I haven't tried a 'liquid' type of blush besides this and I don't have anything bad to say. Again, Milk products are great for people with dryer skin like me. Like the highlighter, the stick also has mango butter and avocado oil to make it richer. I have the color 'Perk' but 'Rally' is high on my Wishlist. ($24)
Sephora collection blush - This blush was introduced to me by a Youtuber, not too sure of her name. She wore it in one of her 'makeup looks' videos and I ran to Sephora to get it. It is a true coral pink that lasts all day. I wouldn't say this was a higher quality blush but it works similarly to one. ($14)
Milani baked blush - The Milani baked blush is a must have blush. Not only is it very affordable but it is the best dupe for NARS 'Orgasm' blush. It is so beautiful on, it gives you the right amount of color for your face while also highlighting. If you are looking to try a new blush I would suggest this. ($8)
Like I have previously mentioned, I was big on my eyebrows back in high school. I think my love for Cara Delevingne was starting to blossom and I just really wanted brows like her (I soon realized that was impossible). But, I did stumble upon a lot of products I really enjoyed on this long journey of eyebrow perfecting.
Anastasia brow wiz - This brow pencil perfects your brows with its easy applicator. I have been on and off with using this product for 4 years now and have tried to mix and match shades. 'Soft Brown' and 'Chocolate' are the two shades I use. It also has an attached brush you for your brows to make them look more natural. ($21)
Gimme Brow brow gel - When I want a defined, natural brow I always use this brow gel. The gel is tinted to give your eyebrows the perfect amount of color in problem areas. This brow gel somewhat gave me the Cara brows I have always wanted. I wear the shade 03 Medium. ($24)
Glossier Boy Brow - This gel is something I put on my eyebrows before I want to precisely fill them in. You can also apply this product at the end of the look, it just keeps your eyebrows in place. I enjoy this brow gel because it doesn't feel like glue on my brows. I use the clear shade but Glossier also has the shades 'Black', 'Brown', and 'Blond'. ($16)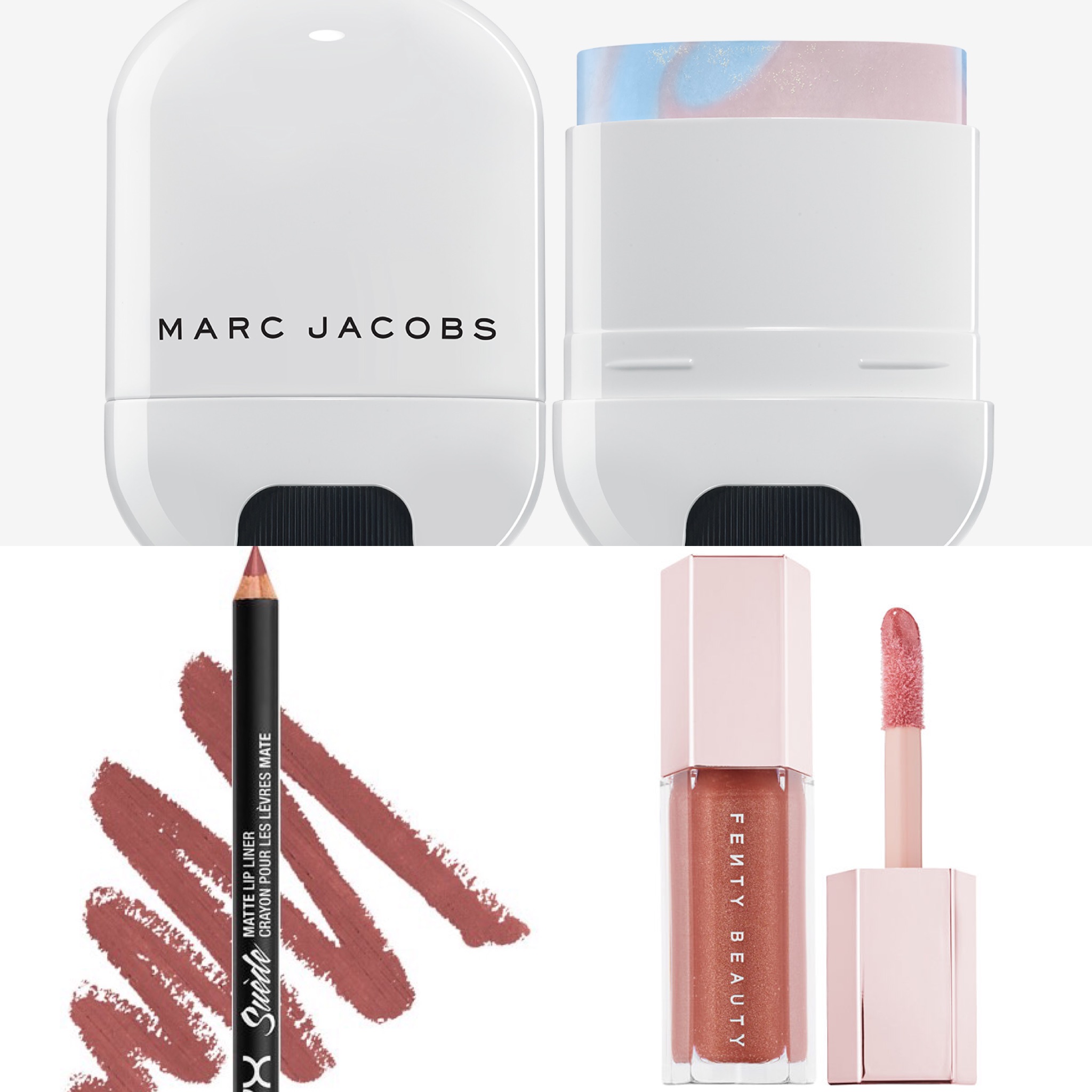 Last but not least, my favorite extras. These are just additional products that I enjoy using when needed. They are an 'added-on' step, not makeup staples for me.
Fenty gloss bomb - Gloss is something that's (if you haven't caught on to the shimmery theme I like) essential to my makeup looks majority of the time. Fenty gloss is the perfect bomb because it last over a long period and brings out the true color of your lips. This is by far my favorite lip gloss to date. Fenty bomb is a universal nude, I recommend everyone to try it. ($18)
Marc Jacobs color corrector - I love color correctors just because of the brightening aspect of some of them. This formula by Marc Jacobs is SUPER silky and leaves my skin looking airbrushed. I started using this because my under-eyes were dull looking, making me look washed out. This product is underrated to say the least. The shade I wear is '310 Bright Now'. ($42)
NYX lip liner - I love nude lips, If I have lipliner on it is always a pinkish/brown/mauve color. This NYX liner is the perfect pink nude and dupe of NARS 'Lérins' lip liner. Again, this is one of the best less expensive lip liners that I have tried. I wear the shade 'Jewel'. ($5)
xoxo -T