For those of you who know, or don't know, Bella Hadid and Kendall Jenner have been my go-to style icons for a couple years now. They are chic, effortless, and timeless with their style. I got a lot of my favorite looks and accessories through their street-styled looks. There have been a ton of amazing comebacks in the fashion world that we never thought we would ever see again. That being said, here are some of my favorite trends in 2017 fashion.
We never thought we'd see the light of day: Platform shoes coming back in the fashion world. These shoes could of been seen in the cultured streets of London and amongst punk-rockers back in the late 80s early 90s. During 2017, they made a huge come back. These are seen anywhere from H&M to Nordstrom. They come in all shapes and sizes and definitely make my list for favorite trends of 2017.
Behold, the bag of the elderly and unfashionable is now back in a savvy way. Fanny packs used to be that one piece of fashion that made the youngsters eyes bleed of sorrow. A fanny pack? As if! Now, stars like Kendall Jenner are now making them trendy again. Thanks to high-end brands such a Supreme, and Louis Vuitton, it is now socially acceptable to wear your moms vintage fanny on a walk through the park or even a festival.
When I think of sunglasses, I think of nicely framed glasses, stylish but fitting for my face. Bella Hadid was one of the many celebs of 2017 who showed us the smaller, the better. Designers like Roberti & Fraud gave us our 90s fever back (but when does it ever leave?) with there unique and classic sunglasses, perfect enough to make a bold statement. I will never get over this trend and will bring it with me into 2018, maybe even 2019.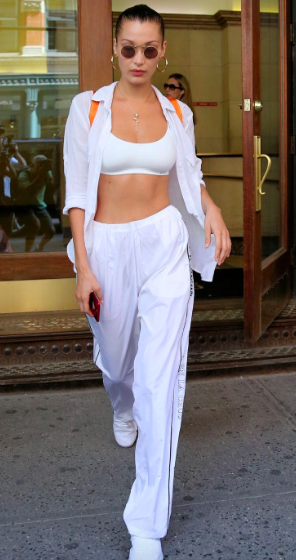 Track suits and sportswear
I never thought the day would come where I could crawl out of bed, put on some workout gear, and go grocery shopping showing some skin. Needless to say, 2017 taught me a lot when it comes to fashion. You really can do anything. I love the tracksuit and sportswear trend because again, it is effortless and can be dressed up with a bag, pair of sunnies, or oversized earrings.
You know what they say, the bigger the hoop...well thats not really the case anymore. Big hoop earrings are one of the bolder trends of 2017. Stars like Hailey Baldwin and Selena Gomez showed us how easy and cute big earrings can actually be. I loved this trend because it can dress up your outfit in just one minute. Whether they are thin hoops or thick, I am in love and ready for them to stay.